Description
no images were found
Yoga Holiday in the Netherlands
Yoga Holiday in the Netherlands:
This Yoga Holiday in the Netherlands is a lovely relaxed time in which you let go of all tension and regain your vitality. There is a varied programme with the ultimate me-time. Enjoy the enless moment in the NOW and feel rejuvenated!
Yoga Holiday in the Netherlands – Programme
8.30 – 9.30 uur: breakfast in silence
10.30 -12.00 uur: Classical hatha yoga
12.30 – 13.15 uur: lunch
13:15 – 14:00 uur *: karma yoga (= help cleaning or in kitchen, in meditative state of mind)
14.00 – 15.30 uur: Meditations (Wednesday and Sunday are free afternoons)
18.00 – 18.45 uur: dinner
20.00 uur: relax yoga (Wednesday and Sunday are free evenings).
* Karma Yoga can take place at another time.
Day 1 starts at 20; arrival after dinner, between 19:30 and 20 o clock. The last day ends at 12 o clock.
Wednesdays and Sundays there is only a morning programme and karma yoga and the rest of the day is free. This way, you have time to see the splendid neighborhood; take a long walk or rent a bike to explore the vast heather fields of the Veluwe (the biggest National Park of the Netherlands), walk to the castle with its nice canal and gardens or just snuggle up in the monastery garden for a bit of extra me-time.
Hatha yoga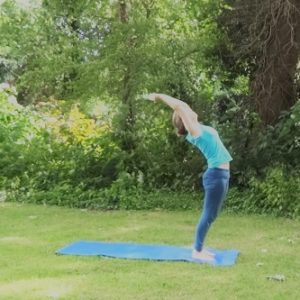 Each morning, you can join a hatha yoga lesson. The lessons are challenging and well doable for as well beginners as more advanced yogis. Tune into the possibilities of your body, so you get the most benefit out of it. Next to yoga poses, you will also do breathing exercises, yoga meditations and of course relaxation. The hatha yoga philosophy is not focused on a deep contact with your body, but Marloes will take into account the tantric principles out of which the hatha yoga developed, which means you will focus on the awareness in your body. Marloes considers your body a wise adviser and leading for how you can practice the yoga poses best. None of the meditations will carry you away from the contact with your body or with the earth, because she believes that especially the path downwards to the earth is important, becoming more and more present in your own body. Every night, you will do a relax yoga session, so that your sleep will be extra rejuvenating.
Meditations
During the retreat you will do diverse meditations of yoga and other experience oriented traditions, like tantra, sufi or gnostic paths. Silence and sound meditations, mantra chanting, movement, standing, sitting or laying down meditations. Visualizations or focusing on what you perceive in your body. All meditations have their own effect, yet all lead to 'coming home', living mindful and give you peace of mind. You have the option to do them all or just join the meditations that are most appealing to you, the choice is yours.
Yin yoga en yoga nidra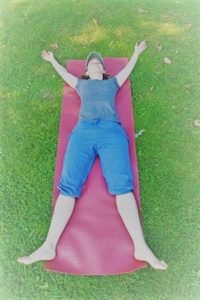 In the evening, we will do hatha yoga in a way that is very supportive for a good night of sleep: yin yoga en yoga nidra.
1 week: € 697,- (woman in 2person-room), € 847,- (single room)
midweek: € 497,- (woman in 2person-room), € 587,- (single room)
weekend: € 297,- (woman in 2person-room), € 357,- (eigen kamer)