The Spark of Light Yoga teacher training is for you if you really want to study yoga as a way of life.
If you feel attracted to the depth of the wisdom that yoga can offer and experiencing the transcendent.
You want to live a fuller life. Deeper experience and amplify the spark of your life energy, the Light within you. Your interest goes beyond just the hatha yoga poses. You also like to learn about the rich tantric tradition and its practical application. So, you are eager to investigate how you can embody and apply this non-dual philosophy.
You are already working on your personal growth and would like to deepen it.

After the training you can give yoga classes and transfer your knowledge to others. It is not necessary to follow the course with that intention. You can also simply use the training for your own development and deepening.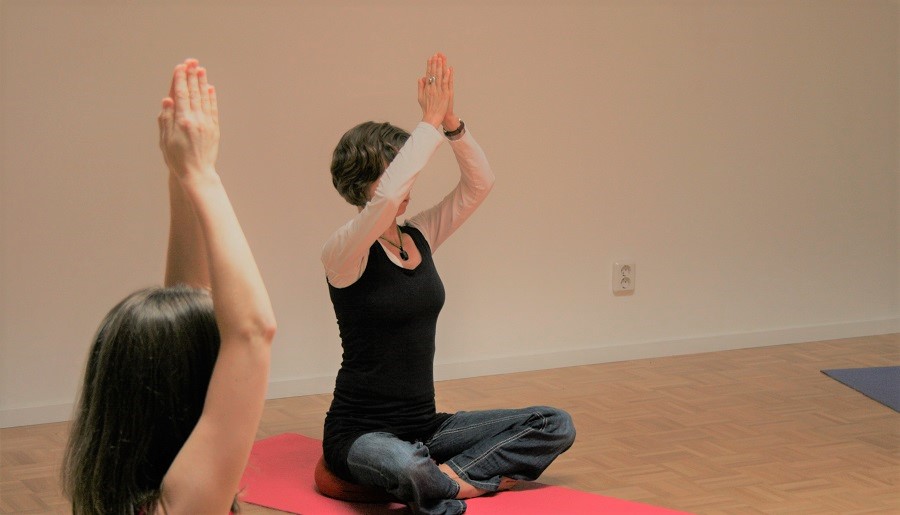 Who can not participate?
The training is perfectly safe if you are healthy. It is however not suitable for you if you are sensitive to psychosis, have previously had a psychosis or have another psychiatric illness. For example schizophrenia, bipolar disorder, borderline or autism. Not even if you take medication for this and are therefore stable. The reason for this is your own safety. In that case, the training can disturb your stability.
Do not worry; if you do not suffer from a psychiatric illness, the course will most likely have a grounding, empowering and calming effect.

When you are pregnant it is not advisable to do this yoga training. First, contact us if you are pregnant and want to do the training.
Why at Spark of Light Yoga?
Why would you want to follow your yoga teacher training at Spark of Light?
We work in small groups so that there is personal attention to your process.
In 12 weekends you have the time to let all knowledge and skills sink in.
Marloes van der Kamp is a renowned teacher who grew up with yoga and has been teaching yoga and meditation for more than 20 years.
The hatha yoga postures are tailored to your body.
There will be an active investigation on how your mind works. You learn how your beliefs and thoughts are connected with emotions. And you put into practice gaining freedom of thought; the ultimate goal of yoga. The working of the mind is described in the ancient scriptures. In this course, this is made accessible with the help of contemporary neuroscience.
You learn how to explain the poses, correct participants, avoid injuries and adjust postures to the possibilities of the participants. Also, you will learn how to use breathing techniques, meditations, mantras and mudras in your yoga classes.
You learn the physical, emotional and energetic aspects of the yoga postures.
To be an example as a teacher, you are encouraged to also apply yoga in your daily life.
You also actually get the minimum of 200 contact hours that the Yoga Alliance requires for a 200-hour yoga teacher training.
If you successfully complete the training you can register as a yoga teacher (200 RYT) at the Yoga Alliance. You also have access to the advanced 300-hour yoga teacher training.