Marloes van der Kamp
The main teacher of this training is Marloes van der Kamp, E-RYT500 (=experienced teacher) and YACEP (=giving trainings for teachers)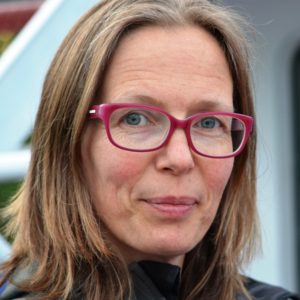 Marloes: 'My teaching style is interactive, involved, inviting and precise.

I grew up with yoga. From childhood on I was interested in yoga & spiritual development. As a small child, I laughed at my father's yoga postures and soon I started imitating him and joining him. Now I already give yoga and meditation lessons for more than 20 years.

I have been trained as a yoga teacher in classical hatha yoga (Sivananda system), yin yoga (system Paul Grilley), transformative yoga (system Swami Vidyanand) and tantra yoga (non-dualistic Saivism).
Poses as a basis, meditations for deepening
The yoga postures form the basis of yoga for me. Meditations provide deepening. I have delved into the inspiring tantric tradition that underlies hatha yoga, with its rich philosophy and meditations to deepen endlessly and become one with Life.
Life is my teacher and mirror. One of my greatest teachers was the "ship Andere Boeg" project between 2006 and 2018. It was following, realizing and having to let go of a big dream again. This brought a huge deepening and above all taught me to trust and surrender. It led me to a deep understanding of life and connection.
Meditation is part of my life, and I hope to inspire my students in this. Not just meditating in training, apart from daily life, but going further than that. Learn to integrate the meditations in daily life.
Broadly trained and lifelong learning
Thanks to my extensive experience (22 years) as a communication trainer and coach, I can easily and flexibly respond to the energy in the group and also to individual themes that arise.
A selection from the education and training that I have completed:
MSc Nutrition and Health at Wageningen University,
Polyenergetic therapy at the Academy for Polyenergetic Therapy,
Introduction and multiple year training at the Center for Tantra,
Various Yoga teacher training courses recognized by Yoga Alliance (200 and 300 hours),
Various massage courses (relaxation and siatsu).
I always keep learning. For example from Christopher Wallis (tantra), Eckhart Tolle (being oriented) and Joe Dispenza (neuroscience). Other sources of inspiration are Georg Feuerstein (tantra and yoga), and Pema Chödrön (Buddhism).
A cheerful or sad tune does not matter, as long as it is pure.

Marloes van der Kamp
'My mission is to contribute to a sustainable and loving society. I like to support people to broaden their horizons and to be authentic. This starts with relaxing in who you are and being consciously present on this earth. A little more in-depth you track and transform your conditionings. This creates inner leadership, fuller awareness, and more life energy. It also becomes easier to live from your heart and to deal creatively with the possibilities and difficulties that life offers'.
The name Spark of Light Yoga
Spark of Light refers to the Divine: your true Self. That is the Spark of Light in you. Tantric philosophy assumes that everything is an expression of the Divine. This Spark of Light is therefore in you (and in everything and everyone around you). It is your true nature, with which you can make deeper and deeper contact through practice.