Finding the best yoga teacher training can be a hassle. There are so many different trainings. How do you choose the best one for you? Below, you will find 7 tips.
First, in general: you can follow a yoga teacher training to become a yoga teacher or to deepen your own practice. A teacher training should inspire you and teach you all the ins and outs of a certain style of yoga. It is also an in-depth inner growth process. You become wiser, more aware and more "at home" in yourself, your body, thoughts and feelings. You are also more conscious of the world around you.
Below, you will find the 7 tips to find the best yoga teacher training:
Certification
In my opinion, the best yoga teacher training always has certification. There are various certifications for a yoga teacher training. For teaching in the Netherlands, a certification from the Dutch Yoga Association is sufficient. If you want to teach abroad, it is advisable to choose a training that is certified by the Yoga Alliance. These two certifications indicate that the training meets a number of quality requirements specifically for yoga training. For example, the number of hours spent on practice, philosophy, teaching, which learning goals must be achieved, etc.

Different styles of yoga
Yoga is not just 'yoga', there are many different styles. The most famous is perhaps Hatha Yoga. Other styles include Astanga, Bikram, Vinyasa, Dru, Flow, Power, Yin and many other styles of yoga. It is good to first see which tradition or which style appeals to you, because of course, that determines the entire course.
Make sure that the course covers all aspects of the tradition. That is to say, meditations, breathing techniques and other techniques within that tradition, in addition to the postures. In addition, anatomy and energy theory, philosophy and didactics. Then you get a complete picture of the whole tradition or style and you can also teach it.
Inspiring teacher and group size
In addition to the style of yoga, of course, the teacher or team of teachers must also appeal to you.
The best yoga teacher training has an inspiring teacher or teacher team. Originally a student had 1 teacher, who passed on the tradition to his students. Sometimes private and sometimes large groups at the same time.
It is good to get to know the teacher. Look at reviews, the texts he / she writes, follow a lesson or just make an appointment to get acquainted and ask your questions. Then you get a good picture of whether this is the one you want to learn from and who can inspire you in the yoga lifestyle.
The group size is related to this. Does the teacher have enough time to personally guide you in your process of inner growth, which takes place during the training? And do you have the opportunity to ask questions in between? In a smaller group, say up to 14 people, there is still a kind of intimate atmosphere. Then everyone can easily provide input and the course material can also be easily adapted to the group. If the group is larger, then this option is often not there.
Type of training: intensive or spread out
Then more practical: yoga teacher trainings are given in different forms. Some people like one intensive period: learn as much as possible in a short and very intensive period. In this way they do not have to get back to it every training day. Others like more time between training days to make everything sink better and to be able to study in their own pace.
Most people start with a 200-hour yoga teacher training. In such a training, you will learn the basics you need to start teaching yoga and meditation. This training should have at least 180 contact hours and it can be given in a 4-week intensive course, in different weekends in a year, or also individual days spread over several years.
The best yoga teacher training has a form that appeals to you and that is practically feasible.
Location
The location can also be important. Often you can see from photos whether it is a nice and quiet place to stay and whether it is supportive for learning. You may find it important to work outside in good weather. Either way, it is important that you feel comfortable in the space and environment where the training is given, and that there is not too much distraction.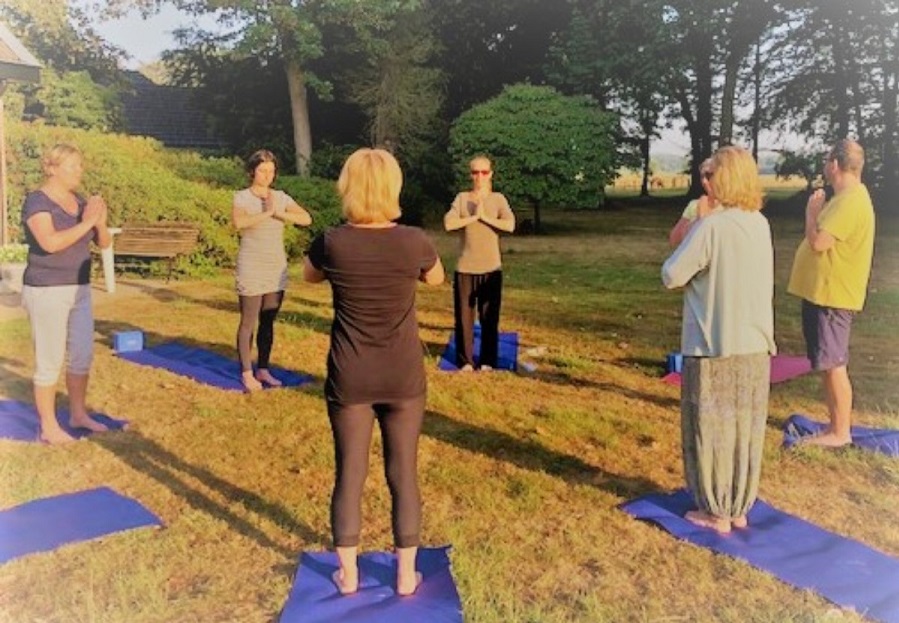 Costs
Different courses can have different rates. In addition to the costs for the training itself, also look at additional costs such as accommodation costs, meal costs and travel costs. Certainly if you have to travel multiple times or go abroad, this can of course be a considerable extra cost item.
Furthermore, it is not the case that the more expensive courses are necessarily better, but there can be a difference in group size, type of accommodation, number of contact hours, etc. so it is good to include that in your choice.
Last step: the decision
And if you have sorted everything out, viewed multiple websites and perhaps even met several teachers, it is finally time for the final step: deciding which yoga teacher training you will follow.
For this, the last tip: in the end it is about which program you have the best feeling about.
Who do you think inspires you the most, from whom would you like to learn more? Let your feeling be the deciding factor. This Of course within the practical preconditions, such as your maximum budget, whether you can free up 4 weeks or only free time during the weekends, etc.
Of course I am very enthusiastic about the Spark of Light Yoga teacher training. Feel free to take a look around on this website to see what the options are and if you have any questions or would like to get to know me, please let me know.